Christ the King – St. Francis de Sales Parish Christian Service Group
This month we meet on Monday, May 14 @ 6 p.m. 
The Christian Service Group typically has their monthly meeting on the second Monday of each month
at Fellowship Hall, Howard City at 6:00 pm.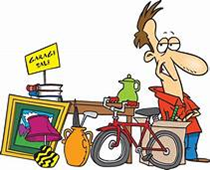 The next Christian Service sponsored event is the annual garage sale. It will take place at Fellowship Hall, Howard City on Friday, June 15, and Saturday, June 16, from 9 am- 5 pm both days. Items for donation can be dropped off on Sundays from noon- 2 pm each week until the sale. We could use help during the days just prior to the sale to sort, categorize, price, and display items. Please contact Sue Lyon at 231-937-7383 to find out the specifics on when we could use volunteers to help our sale be successful. You can also stop by either church or call the office to pick up a copy of the donation guidelines. Thank you for your generosity!
Please consider being an active member of Christian Service. Even if you cannot attend each meeting, we all have special skills and talents that could be put to good use.